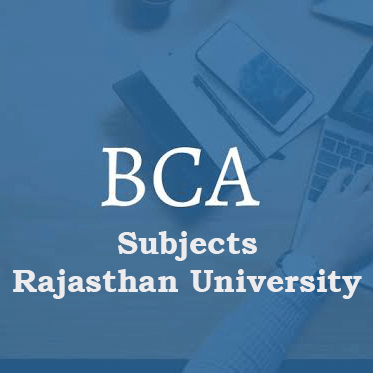 What are the subjects of BCA of Rajasthan University?
In the ever growing IT industry, the demand for BCA graduates is increasing rapidly. With a BCA degree, candidates can find lucrative BCA I Year Syllabus.
The full form of BCA is Bachelors in Computer Application. BCA is a three year undergraduate degree programme for candidates wishing to delve into the world of Computer languages. One of the most popular options to get started with a career in Information Technology, the course gives you an insight into the world of computers and its applications. 
The basic course curriculum of BCA, typically lays emphasis on database management systems, operating systems, software engineering, computer architecture, web technology and languages such as C, C++, HTML, Java etc.
Eligibility for BCA Course  
To pursue a BCA programme, one need not have Physics, Chemistry and Maths as subjects in Class 12th. Infact, candidates who have pursued Arts or Commerce in class XII can also join the course.
Basic eligibility requirements for a BCA course:
Aspirants must have passed 10+2 from any stream with English as a subject with minimum 45% to 55% marks in aggregate (the pass percentage might vary from college to college)

While some colleges/universities admit aspirants on merit basis, the others admit students on the basis of personal interview and written examination.
BCA 1 Year, 2 Year, 3 Year Examination Syllabus. 2020.(Rajasthan University)
Course Code

Name of Subjects

Type

BCA Ist Year Subjects 2020

BCA101
Elementary Physics
Theory
BCA102
Basic Mathematics
Theory
BCA103
General English
Theory
BCA104
Principles of Programming Language (Through 'C')
Theory
BCA105
Computer Organisation
Theory
BCA106
Office Management Tools
Theory
BCA107P
Technical Writing and Communication Skills
Practical
BCA108P
C-Laboratory
Practical
BCA109P
Office Automation Laboratory
Practical
BCA110P
Typing Skills Laboratory (English and Hindi Language)
Practical

BCA IInd Year Subjects 2020

BCA201
Business Accounting
Theory
BCA202
Discrete Mathematics
Theory
BCA203
Operating System
Theory
BCA204
Database Management System
Theory
BCA205
 Web Designing and Multimedia
Theory
BCA206
Object Oriented Concepts (Through 'C++')
Theory
BCA207P
Database Laboratory
Practical
BCA208P
Object Oriented Laboratory
Practical
BCA209P
Web Designing Laboratory
Practical
BCA210P
Multimedia Laboratory
Practical

BCA IIIrd Year Subjects 2020

BCA301
Data Structure (Using C/C++)
Theory
BCA302
System Design Concepts
Theory
BCA303
Networking Technologies
Theory
BCA304
Core Java Programming
Theory
BCA305
E-commerce
Theory
BCA306
PHP/Linux (choice)
Theory
BCA307P
Networking Laboratory
Practical
BCA308P
Core Java Laboratory
Practical
BCA309P
PHP/Linux Laboratory (choice)
Practical
BCA310P
Project
Practical